Havn't bothered on this journal for while but seeing as I can I will. hmmmm.


a.P.A.t.T. have partnered with Leicester based label 'Picked Egg records' to release their forthcoming opus 'Black & White Mass' some time in mid 2007.


The label's roster is genuine quality. Artists like Philadelphia's Need New Body, Chicago-based Bablicon,The Go Team, Pop-Off Tuesday from Osaka, A Hawk and A Hacksaw and Leicester's very own Volcano the Bear, have tapped rich musical mines, mixing jazz, avant rock surrealism, and a punk rock approach.


The release is just shy of 30 songs and each one has their own purpose and character. If ever music was infectiously likeable and downright indulgent, this was it

A tour is planned across the U.K. in April with plenty of warm up shows.

See website for updated details.

Febuary
-21st - Leeds, Quack Quack, Cowtown
-22nd - Liverpool, Korova w/ The Kreeps????

March
-3rd - Leeds, Chinchilla Fest 07 @ Brudenell w/Trencher, Kling Klang,
-17th - Preston?
-19th - Liverpool @ Magnet w/ USA is a Monster, Zukanican, Mammon

April Dates: a.P.A.t.T. w/ Stig Noise, Big Dog Scary

April
-4th - Edinb, w/Germlin
-5th - Glasgow, w/Germlin
-6th - Leeds. Pollen. Brundenell Scl.
-7th - London Bardens Boudoir.
-9th - BAth, Wookie Hole
-9th - HELP
-10th - Bristol.Noise Annoys. The Junction with No Age (wives)
-11th - Oxford tbc
-12th - Brighton tbc
-13th - Manchester - Fight Club. Retro Bar
-14th - Liverpool Class A Audio.




A shoRt DocumMentARy aBOUt a.P.A.t.T.'s NecK




a.P.A.t.T. s new video -The Blood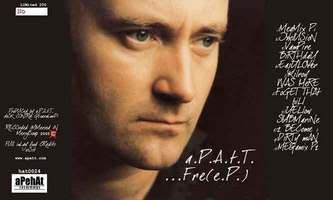 a.P.A.t.T.'s last semi-conceptual release is now available for FREE for download.
It is made and inspired entirly from other peoples material right down to the
artwork, and is intended to be danced to.
Just watch the flash vid and at the end it gives you the option to download the
fre(e.P)

ITS REALLY TOTALLY FREE.